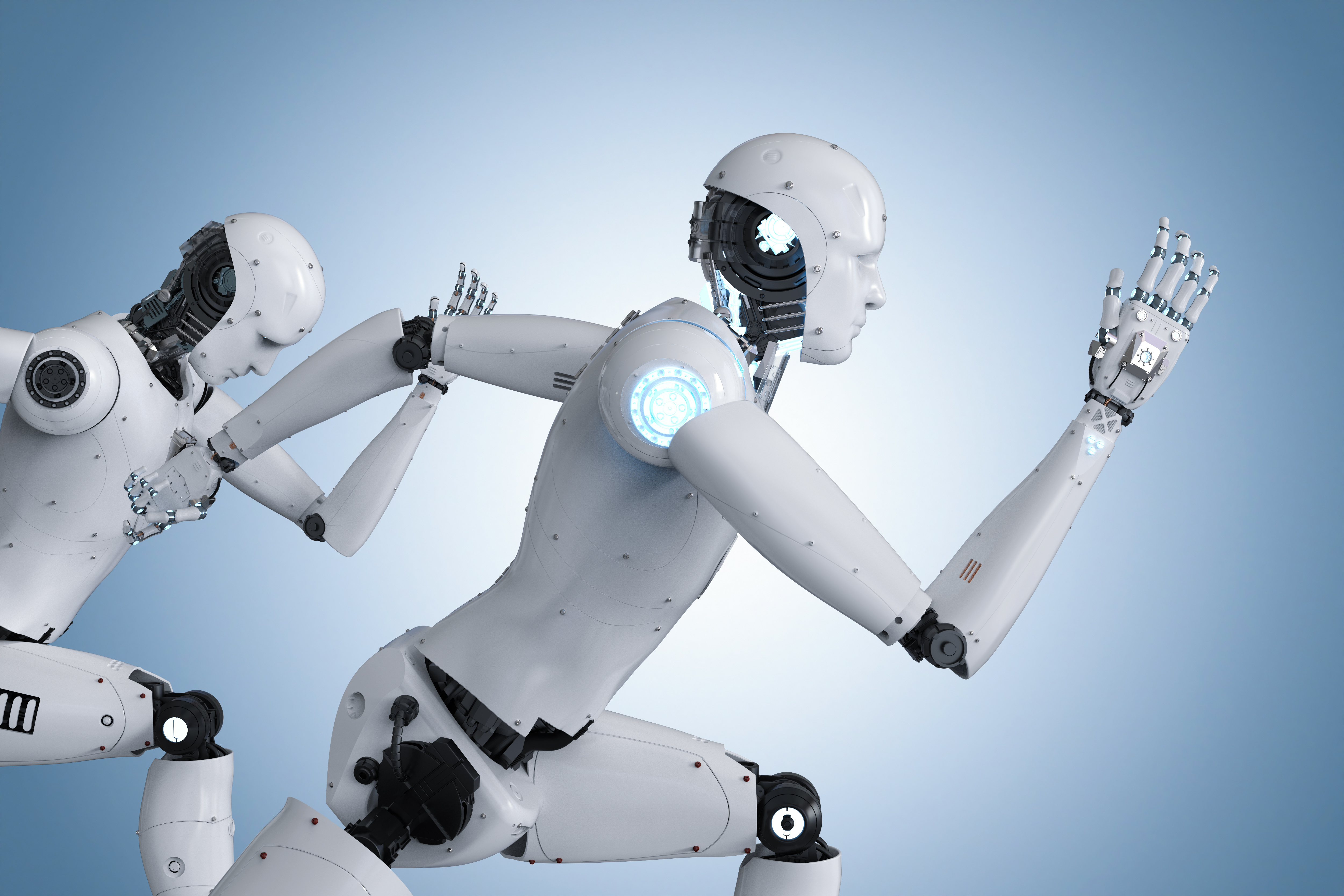 Base-based, Twitter-linked Friend.tech app has seen revenue, fees, and activity jump significantly since Friday – surpassing a number of large projects, Layers 2, and Layers 1.
Looking at the revenues at 9:20 on Tuesday morning (CET), over the past 24 hours, Friend.tech took the 3rd place with $840,889, according to DeFiLlama. This is behind Tron and Ethereum, respectively, and in front of MakerDAO, Convex Finance, and Lido.
In the past seven days, it has seen $2.31m in revenues, surpassing Synthetix, MetaMask, PancakeSwap, and others. In comparison, Arbitrum had $310,739 in the same period, while Optimism had $297,080.
Even though it launched just thirteen days ago, Friend.tech is holding its own among much older projects. Over the past 30 days (or the case of this project, since its launch), the cumulative revenue went up to $2.95 million, placing it in 13th place, between MetaMask and Base.
24h Revenue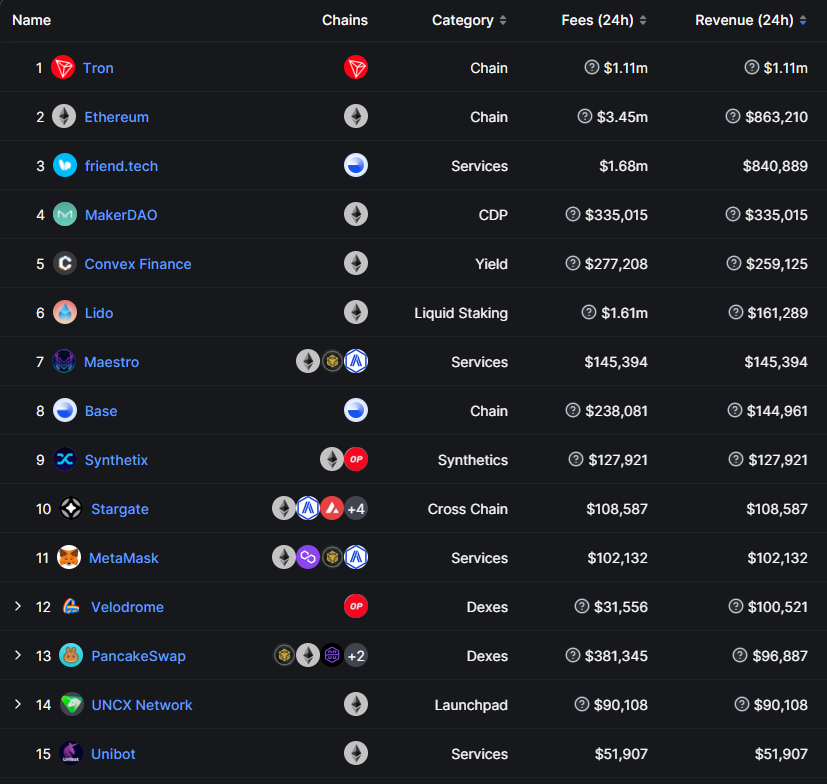 Moving on to the fees, in the last day, Friend.tech recorded $1.68 million, just behind Ethereum's $3.45 million. It is followed by Lido and Tron, with over $1 million each, as well as Uniswap with $887,998 in the fifth spot.
Over the past week, Friend.tech has seen $4.61 million in fees, sitting in fifth place. Before it stand Ethereum ($38.63 million), Lido ($12.45 million), Uniswap ($8.96 million), and Tron (7.31 million).
Bitcoin is in sixth place with $3.49 million, followed by large projects such as PancakeSwap, MakerDAO, BSC, AAVE, Arbtirum, Optimism, Compound Finance, Curve Finance, Polygon, and others.
Cumulative 30-day fees for Friend.tech are $5.9 million, which places it in the 10th place, behind Ethereum, Bitcoin, Aaave, Uniswap, Tron, etc. It has again surpassed projects such as Optimism, Arbitrum, and Base itself.
24h Fees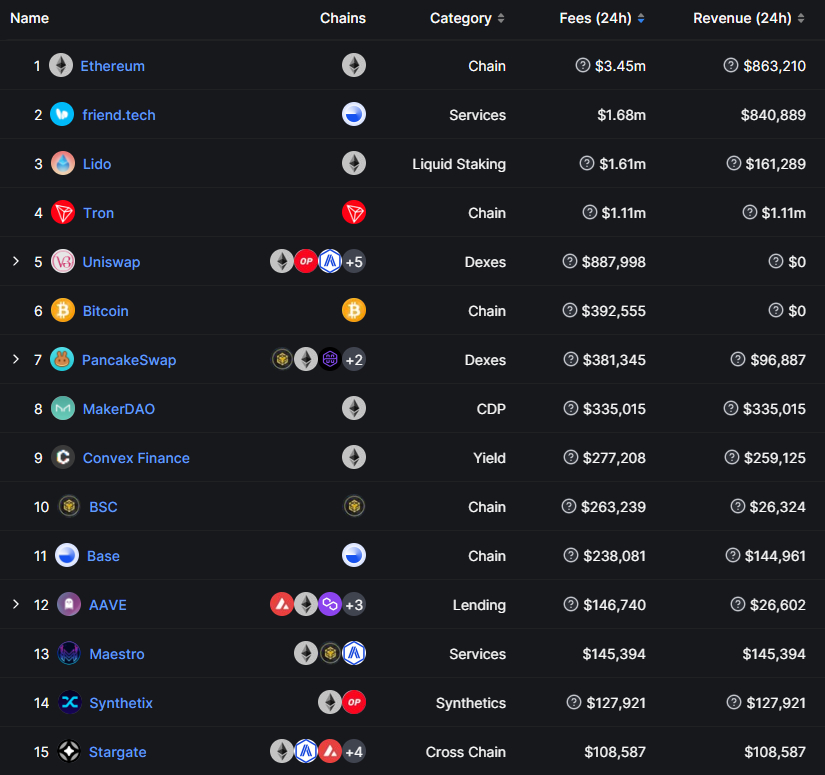 Furthermore, the number of unique users interacting with the app reached 88,888 as of August 22, per Dune.
This is a 188% jump from 30,874 seen on August 18 at the same time of day.

Dune also shows nearly 1.7 million total transactions for the app, bringing in $61.86 million in cumulative inflow.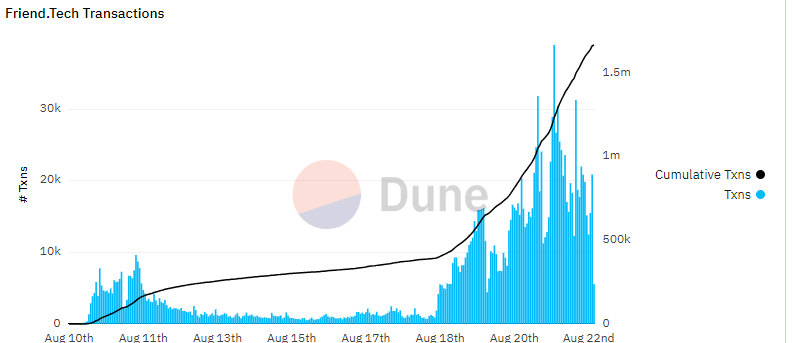 The app is built, presumably by developer Racer, on Coinbase's much anticipated Ethereum layer-2 Base, which launched on August 9.
Base's daily transactions, therefore, are also up, hitting 1.41 million on August 21, compared to Arbitrum's 559,337 and Optimism's 449,149.
The app's invite-only beta version was launched on August 10, soon hitting "server capacity" and having to "[provision] more resources."
Friend.tech is "a decentralized social media app that tokenizes crypto personalities," yuga.eth explained. It tokenizes Twitter accounts and allows users to buy and sell "shares" of social media personalities.
The ownership of a share of a personality – the price of which fluctuates according to supply and demand – grants the holder access to a private chat with that person.
____
Learn more:
– Coinbase's New Base Blockchain Draws $10 Million Inflows Day After Launch
– Coinbase Steps Into Unchartered Territory As Its Layer-2 Blockchain Base Goes Live
– Binance Successfully Integrates Bitcoin Lightning Network for Faster and Cheaper Transactions
– How To Send Ethereum from Coinbase to MetaMask Wallet