Blockchain technology and cryptocurrencies have firmly placed themselves in the global financial economy over the past decade. While fiat currencies are simply a form of payment, blockchain technologies are already applied in various industries, including law enforcement, medicine, and education. Microsoft, Amazon, Google, Apple, and other major corporations are already involved in cryptocurrency as investors or developers. It's only a matter of time until many smaller businesses start to apply blockchain technology to address their own needs.
Libra Incentix is a startup firmly based on the belief in the power of crypto adoption. Today we invited Libra Incentix's founder, Andrew Doxsey, to tell us how his team is helping businesses with the technology of crypto.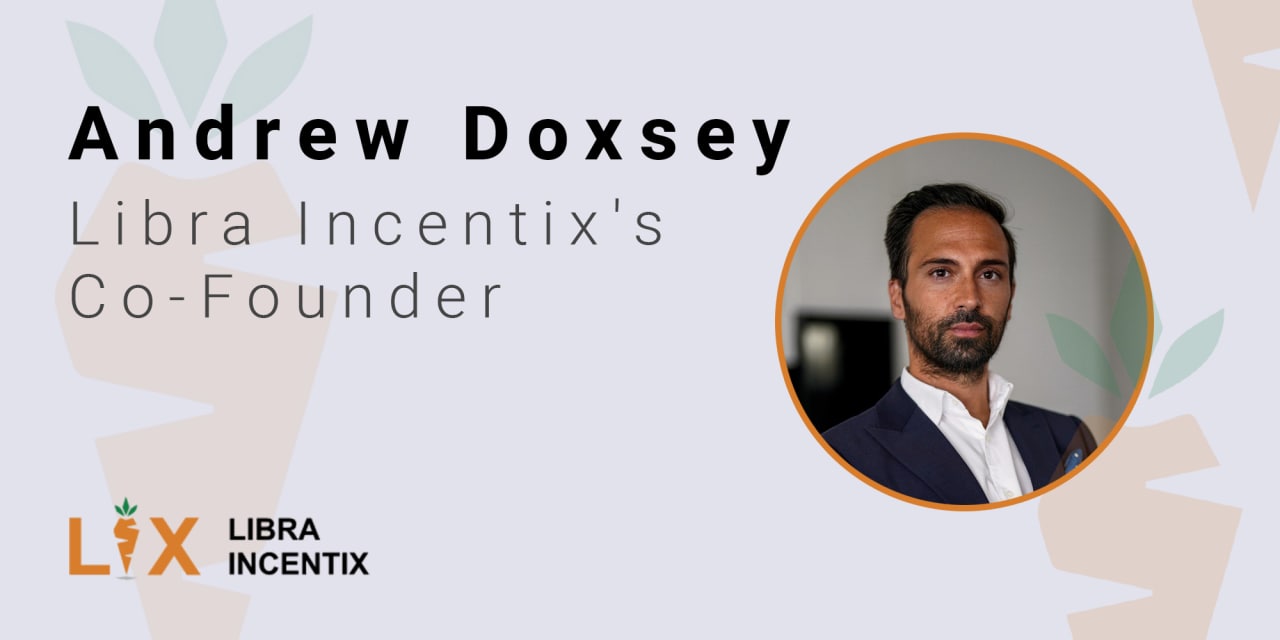 Mike: Hello, Andrew, and thank you for joining us! First of all, tell us a little bit about Libra Incentix? What goal are you striving to achieve?
Andrew: Thank you for having me! I am really excited to talk about Libra Incentix's mission as it's something that I've been obsessed over for years. In essence, LIX is a digital transformation consultancy that utilizes a blockchain-based multi-platform reward system. We use blockchain to facilitate meaningful interactions between businesses and their customers as well as employees. We also offer a consultancy service in exchange for a monthly subscription fee, which provides great value for money to our customer base.
Mike: Is the logic similar to loyalty programs that one might join with their local supermarket?
Andrew: Yes, and no. The key difference is, of course, blockchain technology. While many only think of crypto as a payment or investment method, we see the potential in creating a reward-based token economy that will revolutionize the results of loyalty programs.
Right now major retailers are running individual programs that only allow customers to redeem earned rewards in a narrow environment. Users have to jump through hoops to exchange points which results in low value for both business and the customer. An overwhelming percentage of consumers stop engaging in loyalty programs because the program rewards are either perceived to have insufficient value or are not relevant. Similarly, employers offer non-cash incentives like stock options to attract top talent and reward their employees. Sometimes that is not a feasible solution or it's too complicated due to the technicalities of cashing in stocks.
Mike: How does LIX address these problems?
Andrew: With LIX, businesses have access to a technologically advanced reward system that has blockchain at its core. It's easy to integrate with a company's ecommerce platform and their in-store Point-of-Sale, then configured to reward consumers based on how much or how often they spend money or for the specific items they buy. LIX points and utility tokens can then be redeemed back in the store that distributed them, or on any other products and services within the LIX marketplace. As part of our recent partnership discussions with some major Telecom operators, we are now working to integrate with the telco's digital wallets. This will allow LIX users to convert their points into digital cash on their mobile devices, and vice-versa, from digital cash into LIXX tokens. Importantly, the LIX ecosystem is borderless, meaning that our users can utilize their earned points anywhere in the world.
Mike: What kind of products and services does LIX marketplace offer?
Andrew: Since the LIX marketplace is the destination of thousands of users that seek to redeem earned points, it will naturally become a great place for businesses to promote their products and services, for free. Our partners in the marketplace all accept LIX points or LIXX tokens in exchange for discounts on their products and services. We are already partnered with numerous eCommerce platforms that want to find new users and gain exposure on the platform.
Mike: That sounds like a great way to make loyalty programs more accessible! What kind of behaviors do businesses usually reward?
Andrew: For customers, the main intention is usually to encourage more spending or to promote high margin items. The goal is to design monetary thresholds in a way that spending enough will actually save customers money in the form of free shipping, bigger discounts, and giveaways. With LIX, customers can see the actual monetary balance they accumulate in LIXX tokens which makes the rewards more tangible. Customers don't just earn points from purchases. They can also earn points from sharing on social, leaving reviews or through gamification. The objective is always to boost customer engagement and overall experience.
When it comes to employees, the possibilities are even more extensive because the LIX productivity platform can be tailored to incentivize any type of employee behavior. It can be plugged into an organization's ERP, CRM, or task management software to automatically track and reward the completion of critical tasks. Employees can also be rewarded for adopting new software, incentivizing them to use the features that generate the most value for the business. This can massively support a company's digital transformation initiative.
Mike: Okay, it now seems clear-cut how Libra Incentix is addressing customer-employee management. The ecosystem is powered by the LIXX token, tell us a little bit more about its tokenomics?
Andrew: Yes, of course. Libra Incentix (LIXX) is a BEP-20 standard token which means it's based on Binance Smart Chain (BSC). The total supply is set at 15 billion and distributed as follows: 30% for the founding team, 17.5% for strategic partners/advisors, 2.5% for marketing, 15.5% for pre-sale, 2.5% for community management, 22% for crowd sale, and 10% kept as reserves.
Mike: Is LIXX already on sale?
Andrew: Our pre-sale ends this month, which went better than expected. LIXX will go on IDO (Initial DEX Offering) on July 16 with an expected listing price of $0.0006. This IDO will support LIX's BETA development, integration with other platforms, and market expansion.
Mike: Great, this seems to be everything our readers will need to understand what Libra Incentix does and how they can be a part of it. Anything else you would like to add before we are finished?
Andrew: Yes, I just wanted to share great news from our team. LIX recently met with Binance, to discuss a potential listing and has already entered into numerous partnerships. SMIT, a US-based tech provider wishes to use LIX to help drive the adoption of their software solutions. Another firm is WallPost Company, a global ERP. They have integrated LIX to use the LIXX token to reward customer loyalty and to try new features that the company is implementing. There are more exciting LIX established partners including refund agency USHOP, a Point-of-Sale application TAMIAS, and more collaborations are in discussions as we speak which include a hotel chain, a well known airline and some of the largest telecom operators in the world.
Mike: That sounds great, best of luck with your plans!
Image source: https://libraincentix.com/ Source